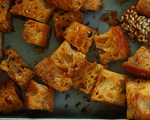 Prep: 10 min
Cook Time: 30 min
Total: 40 min
Serving: Makes 6 cups
These homemade croutons, flavored with sea salt, freshly ground black pepper and thyme, are wonderful in soups, salads or even as a perfect little snack on their own.
Ingredients
6 cups stale bread cut into cubes
1/4 cup olive oil
1/2 teaspoon sea salt
1 teaspoon freshly ground black pepper
1/2 teaspoon thyme
Directions
Preheat your oven to 350 degrees.
Place the bread cubes into a bowl, drizzle with the olive oil and then sprinkle with the salt, pepper and thyme. Gently toss to coat and then place in a single layer on a baking sheet.
Put the bread cubes in the oven for 30 minutes, removing every 10 minutes to stir in order to ensure even cooking.