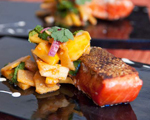 Prep: 10 min
Cook Time: 10 min
Total: 20 min
Serving: 4 Servings
Seared fresh salmon pairs wonderfully with the sweet and savory taste of jicama and mango salad. Try using wild salmon instead of farm raised, as a more flavorful and healthy alternative.
Ingredients
1/2 teaspoon salt
1 cup jicama, cut into 1/4-inch cubes
1 cup mango, cut into 1/4-inch cubes
3 scallions, chopped
1 tablespoon grated ginger
4 tablespoons olive oil
1 small red onion, sliced thin
juice from 2 limes
2 tablespoons cilantro, chopped
1 tablespoon mint, chopped
1/2 tablespoon smoked paprika
1/2 teaspoon ginger powder
1/8 teaspoon salt
freshly ground pepper
1 pound wild salmon, skin on with pin bones removed
Directions
Make the mango jicama salad by placing the salt, jicama, mango, scallions, ginger, 2 tablespoons olive oil, onion, lime juice, cilantro and mint together in a medium-sized bowl. Mix well to combine then set aside to allow flavors to blend.
Heat a large sauté pan over medium heat and then add the oil. Sprinkle the salmon with salt, pepper, paprika and ginger and then place in the pan.
Sear the salmon skin side down for 3 minutes, and then flip salmon and remove pan from heat. Leave the salmon for 1 additional minute in the pan and then remove and cut into 4 pieces. Serve the salmon on top of the salad.