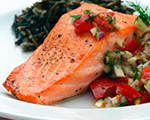 Prep: 20 min
Cook Time: 6 min
Total: 26 min
Serving: 4 Servings
Heart-healthy, pan-seared salmon is given an added 'kick' of flavor with the addition of a fennel and dill salsa.
Ingredients
1 large tomato, chopped
1 cup finely chopped fennel (about 1/2 bulb, stalks trimmed)
2 tablespoons minced red onion
2 tablespoons minced dill
1 tablespoon red-wine vinegar
1/2 teaspoon salt, divided
1 pound salmon fillet, skinned and cut into 4 equally-sized portions
Freshly ground pepper to taste
2 tablespoons extra-virgin olive oil
Directions
Place the tomato, fennel, onion, dill, vinegar and 1/4 teaspoon salt in a medium-sized bowl and stir to combine. Set aside.
Heat the oil in a large sauté pan for 40 seconds over high heat, and then add the salmon and cook for 5 minutes.
Flip the salmon over and remove the pan from the heat. Let the salmon stand for an additional 5 minutes in the pan, and then transfer to 4 dinner plates.
Spoon the salsa over the salmon and serve immediately.