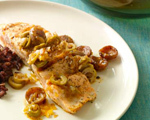 Prep: 10 min
Cook Time: 7 min
Total: 17 min
Serving: 4 Servings
A satisfyingly full and complex blend of flavors from the combination of rich salmon, spicy Andouille sausage and salty green olives makes this a unique and delectable dish.
Ingredients
1 4-ounce link of andouille sausage, thinly sliced
1/4 cup thinly sliced pitted green olives
2 tablespoons unsalted butter, softened
1 medium shallot, minced
4 6-ounce skinless salmon fillets, preferably wild salmon
Extra-virgin olive oil, for rubbing
Sea salt and freshly ground pepper
Directions
Place a small sauté pan over high heat, add the sausage and cook for 1 minute. Remove the sausage from the pan, place in a bowl and set aside to cool.
Once the sausage has reached room temperature, toss well with the olives, butter and shallot.
In the meantime, prepare a grill on high heat.
Brush the salmon fillets on both sides with olive oil and then sprinkle with some salt and pepper. Place the fish onto the grill and cook for 6 minutes, turning once.
Transfer the salmon onto serving plates, top with the sausage mixture and serve immediately.