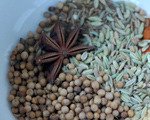 Prep: 5 min
Cook Time: –
Total: 5 min
Serving: Spice rub for 2 salmon fillets
Black pepper, coriander, fennel, cumin, anise, cayenne, garlic and onion are combined with olive oil to make this flavorful and aromatic spice rub for salmon.
Ingredients
1/3 cup olive oil
1 teaspoon sea salt
1 teaspoon fresh ground black pepper
1 tablespoon whole coriander
1 tablespoon whole fennel seed
1 teaspoon whole cumin seed
1 whole star anise pod
2 teaspoons onion powder
1 teaspoon garlic powder
1/2 teaspoon cayenne pepper
Directions
Place all of the spices into a food processor or a blender, and process until the mixture becomes a powder. With the processor's motor running, slowly add the olive oil and continue to blend until combined.
Rub the spice mixture onto salmon fillets pre-seasoned with salt and pepper, and then set the fish aside to marinate for 30 minutes at room temperature prior to cooking as desired.