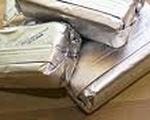 Prep: 12 hr 20 min
Cook Time: 10 min
Total: 12 hr 30 min
Serving: 4-6
Salmon Mousse is an elegant brunch or lunch dish. Serve with sliced cucumbers sprinkled with dill and a drizzle of lemon juice and olive oil.
Ingredients
2 envelopes Knox Gelatin
1/2 cup cold water
1 cup celery, finely chopped
2 heaping tablespoons onion, chopped
1/2 teaspoon salt
1/2 teaspoon white pepper
1 tablespoon lemon juice, freshly squeezed
1 tablespoon prepared white horseradish, drained
1 cup mayonaise
1 can tomato soup, undiluted
6 ounces cream cheese, softened
1 large can salmon, drained
Directions
Mix gelatin and water together; set aside.
In a large bowl, put celery, onion, salt, pepper, lemon juice, horseradish and mayonaise.
In food processor blend tomato soup and cream cheese. Heat this mixture and add gelatin.
Blend salmon in food processor. Mix all ingredients together.
Pour in a greased 6 1/2 cup casserole or greased fish mold. Refrigerate overnight. Unmold onto a decorative platter.