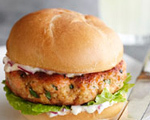 Prep: 45 min
Cook Time: 8 min
Total: 53 min
Serving: 4 Servings
These salmon burgers are not only delicious but also an extremely heart-healthy dish. Feel free to substitute the fresh salmon for canned salmon instead.
Ingredients
1 pound fresh salmon fillet, skinned and cut into 1-inch chunks
3/4 cup panko (Japanese-style bread crumbs)
2 green onions, thinly sliced
2 tablespoons snipped fresh cilantro
2 teaspoons grated fresh ginger
1 clove garlic, minced
2 eggs, lightly beaten
2 tablespoons reduced-sodium soy sauce
1 tablespoon lemon juice
2 tablespoons olive oil
1/4 cup mayonnaise
2 teaspoons lime juice
4 hamburger rolls
Lettuce to garnish
Directions
Place the salmon into a food processor, pulse 8 times to chop, and then transfer to a large bowl.
Add the panko, green onions, cilantro, ginger, garlic, eggs, soy sauce, and 1 tablespoon of lemon juice to the bowl and stir the mixture to combine.
Form the mixture into 4 patties, cover and place in the refrigerator for at least 30 minutes to allow flavors to blend.
In the meantime, place the mayonnaise and the 2 teaspoons of lemon juice into a small bowl and mix until thoroughly blended.
Place a large sauté pan over medium-high heat and add the oil. One the oil begins to shimmer, add the salmon patties and cook for 4 minutes on each side.
Slather some of the lemon and mayonnaise mixture onto each roll and then add a salmon burger. Top with a piece of lettuce and serve immediately.