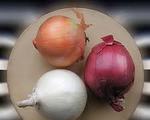 Prep: 10 min
Cook Time: 30 min
Total: 40 min
Serving: 4
Have plenty of mashed potatoes on hand to serve with Salisbury Steak with Onions and Peppers.
Ingredients
2 tablespoons butter
4 medium onions, sliced
2 green peppers, cut into 2 inch by 1/2 inch strips
1 pound ground beef
1 cup soft bread crumbs
1 egg
salt and pepper
1 tablespoon flour
1 cup water
2 tablespoon ketchup
1 tablespoon dry sherry
1/2 teaspoon soy sauce
Directions
In 12 inch skillet over medium heat, in hot butter, cook onions and peppers until tender, stirring frequently. Remove onion mixture to warm platter; keep warm.
Meanwhile, in medium bowl with fork, mix ground beef, bread crumbs, egg, 1/2 teaspoon salt and 1/4 teaspoon pepper. Shape mixture into four 1/2 inch thick oval patties.
In same skillet over medium-high heat, cook patties about 5 minutes for medium or until of desired doneness, turning patties once. Arrange patties on platter with onions and peppers; keep warm.
Into drippings in skillet over medium heat, stir flour, 1/4 teaspoon salt and 1/8 teaspoon pepper; cook 1 minute. Add water, ketchup, sherry and soy sauce; cook, stirring constantly, until mixture is slightly thickened. Pour sauce over patties.