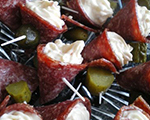 Prep: 30 min
Cook Time: –
Total: 30 min
Serving: 24 appetizers
The saltiness of the salami pairs perfectly with the pepper cream cheese filling in this simple appetizer.
Ingredients
4 ounces (1 cup) Monterey Jack cheese, shredded
1 (3-ounce) package cream cheese, softened
1 tablespoon milk
3 tablespoons finely chopped red bell pepper
2 tablespoons finely chopped pepperoncini peppers, drained
3-1/2 ounces hard salami, thinly sliced and cut in half
5 whole dill pickles, cut into 1/2-inch round slices
Directions
Place the Monterey Jack cheese and the cream cheese in a medium-sized bowl and beat with a handheld mixer until combined.
Add the bell pepper and the pepperoni peepers, and stir to combine.
Place the pepper and cheese filling into a pastry bag and fit the bag with a large tip.
Twist a salami slice into a cone and pipe in the cheese mixture. Place the salami cone on a pickle slice and secure with a toothpick. Continue with the remaining salami slices.