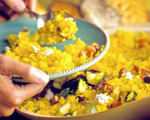 Prep: 10 min
Cook Time: 20 min
Total: 30 min
Serving: 4 Servings
Feel free to add or substitute additional vegetables of your choosing to this saffron pilaf side dish recipe.
Ingredients
1 cup long grain rice
1 (14-1/2-ounce) can vegetable broth
1/4 cup water
1/8 teaspoon saffron threads
2 tablespoons olive oil
1/2 teaspoon minced garlic
1 red sweet pepper, seeded and quartered
1 large zucchini, halved lengthwise
1 eggplant, sliced 1/2 inch thick
1 ounce herbed semi-soft goat cheese crumbled
2 tablespoons coarsely chopped pecans, toasted
Directions
Prepare your oven broiler.
Place the rice, vegetable broth, water, and saffron into a saucepan and bring to a boil. Once boiling, cover the pan and simmer the mixture for 15 minutes.
In the meantime, place the sweet pepper, zucchini, and eggplant onto a baking sheet and brush generously with oil. Sprinkle the vegetables with the garlic and a few pinches of salt and pepper; grill for 10 minutes, turning once halfway through the cooking time.
Remove the vegetables from the oven and cut into small pieces once cool enough to handle. Add the vegetables to the rice, toss to combine and then serve topped with the crumbled goat cheese and the hazelnuts.