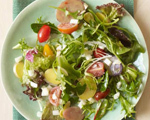 Prep: 10 min
Cook Time: 12 min
Total: 22 min
Serving: 4 Servings
This delicious and light salad has beautiful presentation with its mix of vibrant colors. Try to use a mix of arugula and mesclun for the baby greens if possible.
Ingredients
3/4 pound fingerling potatoes, cut into 1/3-inch-thick coins
1/4 cup extra-virgin olive oil
1 clove garlic, thinly sliced
Pinch of saffron threads, crumbled
Sea salt and freshly ground pepper
2 tablespoons mayonnaise
2 tablespoons fresh lemon juice
1 pint heirloom cherry tomatoes, quartered
1 small fennel bulb, tough outer layer discarded, bulb cored and finely diced
8 cups mixed baby greens
Directions
Place the fingerling potatoes, 2 tablespoons of olive oil, the garlic, saffron and a few pinches of salt and pepper into a large sauté pan; stir to combine.
Pour in 2 cups of water, cover the pan and cook the mixture over medium-low heat for 12 minutes. Drain any remaining liquid, remove the garlic and allow the mixture to cool slightly.
In the meantime, place the mayonnaise, lemon juice, remaining 2 tablespoons of olive oil and a pinch of salt and pepper into a large bowl and vigorously whisk to combine. Add the potato mixture and the mixed baby greens, and toss to coat with the mayonnaise sauce. Season to taste with additional salt and pepper and then serve.