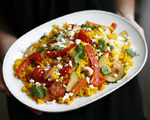 Prep: 10 min
Cook Time: 12 min
Total: 22 min
Serving: 4 Servings
This is a perfect vegetarian main dish to serve while entertaining. Pair the meal with either a bottle of French Chablis or White Alsatian, and enjoy.
Ingredients
1-1/2 cups bulgur
3 cups vegetable broth
3 threads saffron
2 tablespoons olive oil
1 onion
2 cloves garlic
1/2 chili
1 red bell pepper, sliced
1 zucchini, thinly chopped
10 cherry tomatoes, cut in half
1/2 lemon, juice
1 handful coriander
sea salt and freshly ground black pepper
8 ounces goat cheese
roasted salted almonds to garnish
Directions
Cook the bulgur according to package directions but replace the water with the broth. Add the saffron threads to the pot halfway though the cooking time.
In the meantime, place 2 tablespoons of olive oil into a large sauté pan over medium heat. Once the oil begins to shimmer, add the onion, garlic and chili and sauté for 1 minute, then stir in the bell pepper, zucchini, cherry tomatoes and lemon juice and cook for 10 minutes.
Add half of the coriander, a few pinches of salt and pepper and half of the goat cheese to the sauté pan. Stir well to combine and then transfer the mixture to a large bowl along with the cooked bulgur. Toss to combine and then top with the remaining coriander and goat cheese. Garnish with a scattering of roasted almonds and serve.