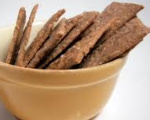 Prep: 40 min
Cook Time: 20 min
Total: 1 hr
Serving: 8 9" pieces
Homemade rye crackers. Can be stored for up to 2 months. Serve with dips and spreads.
Ingredients
1/4 cup warm water
2 packages active dry yeast
1 teaspoon salt
1 teaspoon sugar
1 cup milk
1 1/2 teaspoons crushed caraway seed
1 3/4 cups medium rye flour, divided
About 1 1/4 cup all purpose flour
Directions
Mix together the water, yeast salt and sugar, set for about 3 minutes to dissolve yeast. Add the milk, caraway seed, 1 1/2 cups rye flour, and 1 cup all purpose flour. Mix until smooth.
Using the remaining all purpose flour, knead the dough until smooth and stretchy.
Divide into 8 equal pieces, shaping each into a round bun. Place on a greased cookie sheet, flip to grease the top as well. Cover and place in a warm place to rise until almost doubled (30 minutes). Punch down.
Preheat oven to 400 degrees Fahrenheit.
Place on a light floured surface. Using the remaining rye flour and a stocking covered rolling pin, roll out each bun to about 9 inches round. Place on an ungreased cookie sheet, poke entire surface with fork.
Bake 2 sheets at a time, for 4 minutes per side. Or until light brown and crisp.
Cool on racks. Break into pieces to serve.