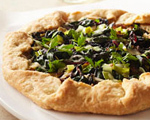 Prep: 20 min
Cook Time: 50 min
Total: 1 hr 10 min
Serving: Makes 8 appetizer servings
This dish is made with tender Swiss chard, leeks, garlic and fresh mozzarella cheese. Cut the tart into slices and serve as a light brunch accompanied by an Italian pinot grigio or an American Chardonnay.
Ingredients
1 package pastry dough
1 bunch Swiss chard, washed and chopped (about 5 cups)
1 cup chopped leeks
4 cloves garlic, minced
1/4 teaspoon dried thyme, crushed
1 tablespoon olive oil
3/4 cup shredded mozzarella cheese
Sea salt and freshly ground black pepper
Fresh Italian (flat-leaf) parsley, to garnish
Oil or butter to grease
Directions
Preheat your oven to 400 degrees and lightly grease a baking sheet with butter or oil.
Place the oil into a large sauté pan over medium heat. Once it begins to shimmer, add the chard, leeks, garlic, thyme, 1/4 teaspoon salt and 1/4 teaspoon fresh black pepper, and sauté the mixture for 4 minutes. Remove the pan from the heat and allow the mixture to cool slightly before stirring in the cheese and mixing to combine.
Remove the dough from its packaging and place on a clean, lightly floured surface. Roll the dough into a 12-inch circle and then place on the prepared sheet. Transfer the leek mixture to the center of the pastry, leaving about a 2-inch border from the sides. Fold the sides of the dough up and over to cover part of the filling, and then decoratively crimp the edges.
Place the tart into the oven and bake for 40 minutes or until light golden brown. Garnish the tart with the fresh parsley and serve immediately.