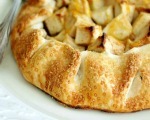 Prep: 20 min
Cook Time: 55 min
Total: 1 hr 15 min
Serving: Serves 10 people
Rustic Granny Smith Apple Tart looks as lovely as it tastes. This dessert is perfect for your Thanksgiving festivities.
Ingredients
2-1/2 cups all purpose flour
1 teaspoon sugar
Kosher salt
1-1/2 stick unsalted butter, cut into 1/2-inch cubes and chilled
1/2 cup ice water
1 teaspoon grated lemon zest
4 Granny Smith apples, peeled, cored and thinly sliced
1 teaspoon lemon juice
1 large egg white, beaten
2 tablespoons raw sugar
Directions
Use a mixer with the paddle attachment to combine the flour, 1 teaspoon of sugar, and 1/2 teaspoon of salt. Add the butter and mix at a low speed, for about 30 seconds. The butter should be in small, pea-sized pieces.
While the mixer is on, slowly add the 1/4 cup of ice water. Add the rest of the water, one teaspoon at a time, as needed, until the dough is evenly moist.
Place the dough on a lightly floured surface and kneed it until it comes together. Form the dough into a disk shape, wrap it in plastic wrap and chill it for at least an hour (you can chill overnight as needed).
Preheat the oven to 400 degrees. Line a baking sheet with parchment paper. Lightly flour a work surface, and roll the dough into a 17-inch round shape. Trim about an inch off the rounded dough and transfer it to the baking sheet.
In a medium bowl, combine the remaining 1/2 cup sugar, lemon zest and pinch of salt. Add the apples and lemon juice. Toss to coat.
Fan out the apples in a ring shape inside the dough circle, leaving a border of about 3 inches. Fold the border of the dough over the apples. It is okay if you have to overlap the edges of the doug. Brush the dough ridges with the egg white and sprinkle it with the raw sugar.
Bake in the center of the oven for about 55 minutes. The crust should be turning golden and the apples tender. Transfer the baking sheet to a wire rack to cool.
When ready to serve, slide the pie onto a serving plate and cut into wedges.