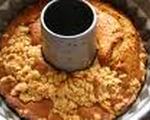 Prep: 10 min
Cook Time: 55 min
Total: 1 hr 5 min
Serving: 10
Russian Coffee Cake is a classic recipe made with sour cream.
Ingredients
1 cup butter, softened
1 cup sour cream
2 1/2 cups flour
1 teaspoon baking soda
1 teaspoon vanilla
3 eggs
1 cup sugar
3 teaspoons baking powder
1/4 teaspoon salt
Topping: 1/2 cup sugar
3/4 cup nuts, chopped
1 teaspoon cinnamon
Directions
Mix together the butter, eggs, sour cream and sugar; set aside. In a separate bowl, combine flour, baking soda, baking powder and salt. Combine the dry ingredients with the wet ingredients and mix well. Add vanilla and stir.
Combine topping ingredients. Pour half of the batter in a greased 10 inch bundt pan; sprinkle with half of the topping. Add the remaining batter and cover with remaining topping mixture. With a spoon, poke the topping into the batter. Bake at 350 degrees F for 55 minutes.