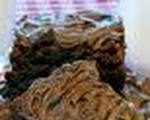 Prep: 15 min
Cook Time: 40 min
Total: 55 min
Serving: Makes 16 brownies
Whether you're a country gal living on the ranch, or a city girl with a yearning for a connection with good old country cooking, Ree Drummond, known best as The Pioneer Woman, has this delicious rum mocha brownie recipe for you.
Ingredients
4-ounces unsweetened chocolate, melted and slightly cooled
1/2 pound (2 sticks) butter
2 cups granulated sugar
4 large eggs
3 teaspoons pure vanilla extract
1 1/4 cups all-purpose flour
1/2 pound (2 sticks) butter, softened
5 cups powdered sugar
1/4 cup cocoa powder
1/4 teaspoon salt
3 teaspoons pure vanilla extract
1/2 cup brewed coffee, cooled to room temperature
Directions
Preheat oven to 325 degrees F. Grease an 8-inch square baking pan.
For the brownies: in a medium bowl, cream the butter and sugar until light and fluffy.
Beat in the eggs. With the mixer on low speed, drizzle in the chocolate and vanilla extract and mix well.
Add the flour and mix until just combined (do not over mix).
Spread the batter evenly into a prepared pan. Bake for 35 to 40 minutes until the center is no longer soft. Cool completely before icing.
In the meantime, prepare the frosting. Combine butter, powdered sugar, cocoa powder, salt, and vanilla in a large bowl. Mix until slightly combined.
Add coffee and beat until icing is at desired consistency, adding more coffee if too thick to spread.
Spread icing over cooled brownies and chill until frosting is firm. Slice into 16 even squares and enjoy!