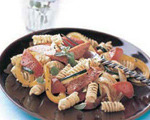 Prep: 10 min
Cook Time: 12 min
Total: 22 min
Serving: 6 Servings
This rotini pasta and kielbasa dish, made with zucchini, tomatoes and yellow sweet pepper, makes a colorful and delicious meal that is extremely well-suited for entertaining. Accompany with a bottle of Australian Shiraz or a Cabernet Sauvignon to complete the dish.
Ingredients
2 cups dried rotini pasta (about 6 ounces)
1 tablespoon olive oil
1 medium onion, cut into wedges
2 cloves garlic, minced
1 pound cooked kielbasa, halved lengthwise and sliced diagonally
1 small zucchini, cut into matchstick-size strips
1 yellow or orange sweet pepper, cut into small strips
1 teaspoon dried Italian seasoning, crushed
1/8 teaspoon ground red pepper
8 Roma tomatoes, cored and chopped (about 1 pound)
Directions
Cook the rotini pasta 'al dente' according to package directions and then drain well.
In the meantime, place the oil in a large sauté pan over medium-high heat. Once it begins to shimmer, add the onion and the garlic, cook for 1 minute, and then add the kielbasa and cook the mixture for an additional 5 minutes.
Stir in the zucchini, sweet pepper, Italian seasoning, and ground red pepper and then cook for 5 minutes before adding the tomatoes and the cooked pasta. Cook the mixture until heated through and then serve immediately.