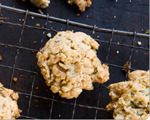 Prep: 10 min
Cook Time: 20 min
Total: 30 min
Serving:
Try these delicious rosemary cookies using almond flour and light agave nectar.
Ingredients
1-1/4 cups blanched almond flour
1/8 teaspoon sea salt
1/4 teaspoon baking soda
1/4 cup grapeseed or canola oil
2 tablespoons light agave nectar
1 teaspoon vanilla extract
1 tablespoon chopped rosemary
1⁄2 cup chopped walnuts
Directions
Preheat oven to 350 degrees F and line 2 large baking sheets with parchment paper. In a large bowl combine almond flour, salt and baking soda. In a smaller bowl whisk together oil, agave, and vanilla. Stir wet ingredients into the almond flour mixture until thoroughly combined, then gently fold in the rosemary and walnuts.
Spoon dough one tablespoon at a time onto prepared baking sheets. Place sheets in the oven and bake for 6 to 7 minutes until lightly golden. Cool on baking sheets before serving.