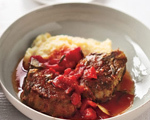 Prep: 10 min
Cook Time: 20 min
Total: 30 min
Serving: 4 Servings
These chops are first rubbed with rosemary, garlic and salt, broiled to perfection and then served with a balsamic tomato sauce. Accompany this dish with a side of creamy mashed potatoes for a complete meal.
Ingredients
4 lamb loin chops, cut 1-1/2 to 2 inches thick
1 tablespoon snipped fresh rosemary
3 cloves garlic, minced
1/2 teaspoon sea salt
1/2 teaspoon ground black pepper
1 tablespoon olive oil
2 cups cherry tomatoes
1 teaspoon balsamic vinegar
Directions
Place the oven rack in the upper third portion of the oven and prepare the broiler.
Rub both sides of the chops with half of the rosemary, half of the garlic and half of the salt and then place on a broiler pan.
Cook the chops for 20 minutes, turning as needed to evenly brown on both sides.
In the meantime, place the oil in large sauté pan over medium heat and add the tomatoes and the remaining rosemary, garlic and salt, along with a few grinds of fresh black pepper. Stir the mixture to combine and then simmer for 6 minutes.
Stir the balsamic into the tomato mixture and then spoon over the prepared chops. Serve immediately.