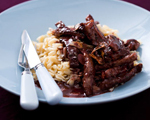 Prep: 5 min
Cook Time: 20 min
Total: 25 min
Serving: 4 Servings
Serve these succulent pieces of beef smothered in a rich rosemary and wine sauce over orzo pasta.
Ingredients
2 tablespoons all-purpose flour
Salt and pepper
Olive oil
1-1/4 pounds stir-fry beef (preferably sirloin)
4 garlic cloves, thinly sliced
1-1/2 tablespoons chopped fresh rosemary
1 cup red wine
Directions
Place the flour and a few pinches of salt and pepper onto a large plate, and add the beef to coat.
Add about 1 tablespoon of olive oil into a large skillet over medium-high heat. Once the oil begins to shimmer, add 1/3 of the beef and sear for about 2 minutes until no longer pink. Transfer the beef to a plate and continue with the next batch, adding another tablespoon of oil to the pan.
Add another tablespoon of oil to the pan and sauté the garlic and the rosemary for 1 minute before deglazing the pan with the wine.
Return the beef to the pan, season the mixture with some salt and pepper, and cook until beef is warmed through. Serve immediately.