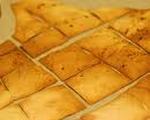 Prep: 1 hr 10 min
Cook Time: 15 min
Total: 1 hr 25 min
Serving: Makes about 24 crackers
These savory Lavasch crackers complement a number of toppings like your favorite low fat dips and spreads, salads, cold cuts, smoked salmon, cucumbers, etc.
Instead of rosemary and Parmesan cheese, experiment with other flavor combinations using red pepper flakes, dehydrated onion flakes, poppy seeds, dried thyme, curry powder, paprika, sesame seeds, flax seeds, dried parsley flakes, fresh ground pepper, a dash of seasoning salt, etc.
Ingredients
1 package active dry yeast
2 cups warm water
1 teaspoon sugar
2 1/2 tablespoons vegetable oil
3 1/4 cup unbleached flour
1 teaspoon salt
3 tablespoons fresh rosemary
3 tablespoons freshly grated Parmesan cheese
Directions
In a small bowl, add water and sugar until dissolved then sprinkle yeast on top. Let stand for 10 minutes to activate yeast then add oil.
In a food processor, add flour and salt and mix well; slowly add yeast mixture and continue mixing until dough forms a ball while scraping sides with a spatula. If you don't have a food processor, use a wooden spoon to mix by hand and add yeast mixture a little at a time to evenly combine. Add more flour as needed if dough is too sticky or water if too dry.
Turn dough out on a floured work surface and knead dough by hand until it is smooth. Wrap tightly in plastic wrap and allow to rest in the refrigerator until it rises to nearly double its size (about 1 hour).
Preheat oven to 400 degrees F. In a small bowl, combine rosemary and Parmesan cheese.
Turn dough out on a floured work surface and roll out until it is the shape of a rectangle. Cut dough into roughly 16 equal portions. When working with one portion of dough, place the others in a bowl covered with plastic wrap to prevent drying out.
Take a portion of dough and roll until paper thin (should resemble a very flat rectangle or strip). Using a spatula, lift the dough strip and place it on an ungreased baking sheet; repeat with remaining dough pieces.
Evenly sprinkle the tops of the dough strips with rosemary and Parmesan and lightly press into the dough.
Bake until golden brown (about 10 to15 minutes), then cool on wire racks.