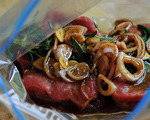 Prep: 5 min
Cook Time: –
Total: 5 min
Serving: Marinade for 2 steaks
Freshly sliced onion and lightly bruised fresh rosemary sprigs make a wonderfully aromatic and delicious marinade for steaks.
Ingredients
1/3 onion, thinly sliced
2 rosemary sprigs, light bruised with a pestle to release natural oils
3 tablespoons olive oil
1-1/2 tablespoons soy sauce
2 tablespoons red wine vinegar
2 teaspoon fresh lemon juice
2 teaspoon Worcestershire sauce
1/2 teaspoon Dijon mustard
1 large garlic clove, thinly sliced
1 large shallot
2 rosemary sprigs
2 shakes Tabasco
10 grinds freshly ground black pepper
1/2 tablespoon sea salt
1-1/2 teaspoons honey
Directions
Place all of the ingredients into a bowl and whisk vigorously to combine.
Pour the mixture into a large Ziploc bag and then add the steaks. Seal the bag and then flip continuously until the steaks are well coated. Place in the refrigerator for at least 2 hours or more prior to cooking.