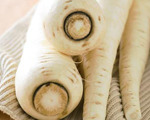 Prep: 10 min
Cook Time: 25 min
Total: 35 min
Serving: 4 Servings
Parsnips are root vegetables that are related to the carrot. They have a beautiful cream color and a sweet flavor.
Ingredients
2 pounds parsnips
2 cups water
1/4 teaspoon salt
2 tablespoons butter
1 tablespoon maple syrup
1-1/2 teaspoons fresh rosemary
Directions
Trim the parsnips and then cut into slices.
Place the water and the salt into a saucepan and bring to a boil. Add the turnips to the pot and return to a boil. Once boiling, reduce the heat to medium-low, cover and simmer for 10 minutes. Drain the turnips and set aside.
Put the butter into a large sauté pan over medium heat. Once melted, add the maple syrup and rosemary and stir well to blend. Add the turnips to the pan; bring the mixture to a boil and then reduce the heat and cook over medium-low for 10 minutes.