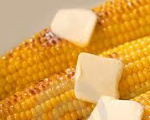 Prep: 20 min
Cook Time: 40 min
Total: 1 hr
Serving: 5 servings
Ingredients
5 ears of fresh corn
3/4 cup butter, softened
1/2 teaspoon salt
1/2 teaspoon paprika
1/4 teaspoon pepper
1 tablespoon milk
12 corn shucks
Directions
Deshuck and silk the corn, save the shucks for wrapping. Soak the shucks in warm water for 10 minutes, drain.
Combine the butter, salt, paprika and milk to create a paste. Spread over the corn ears and then wrap in the shucks.
Place in a heavy pot, cover and bake at 400 degrees Fahrenheit for 30-40 minutes.