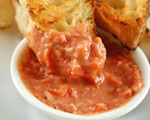 Prep: 10 min
Cook Time: 15 min
Total: 25 min
Serving: 6 Servings
Romesco Sauce originated in Tarragona, Catalonia; it is made by blending a mixture of nuts with roasted garlic, bell pepper and most frequently, tomatoes and vinegar.
Ingredients
3 tomatoes, halved
10 cloves garlic, peeled
2 slices bread, crusty
1/2 cup almonds, whole, with skin on
1/2 cup hazelnuts (or pine nuts)
1 pimiento (or roasted red pepper)
1/2 cup red wine vinegar
3/4 cup olive oil
1 teaspoon paprika
2 teaspoons sea salt
3 tablespoons olive oil
Directions
Preheat your oven to 450 degrees.
Place the tomatoes, garlic, bread, almonds and hazelnuts on a baking sheet and roast for 15 minutes. Carefully transfer the hot ingredients to a food processor and pulse until finely chopped. Add the pimentos, vinegar, oil, paprika, and salt to the processor, and continue to blend the mixture until combined; serve immediately.