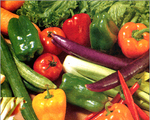 Prep: 15 min
Cook Time: 50 min
Total: 1 hr 5 min
Serving: 4
Roasted Vegetable Wraps are filled with sweet potatoes, green beans and peppers.
Ingredients
1 pound sweet potatoes, peeled and cut into 1/2 inch dice
3 teaspoons extra virgin olive oil
8 ounces green beans, cut into 1 inch lengths
1 large red bell pepper, seeded and cut into strips
3/4 teaspoon salt
1/2 teaspoon freshly ground black pepper
1 1/2 teaspoons ground cumin
1 teaspoon ground coriander
1 teaspoon dried thyme
2 tablespoons lemon juice
3/4 cup prepared humus
4, 8 inch flour tortillas
Directions
Preheat oven to 425 degrees F.
In a medium bowl, toss the sweet potatoes and green beans with 2 teaspoons of the oil. Spread the potatoes and beans over two thirds of a large baking sheet.
In the same bowl, toss the peppers with the remaining teaspoon of oil, then spread them over the remaining third of the baking sheet. Season all vegetables with salt and pepper.
Cover the potatoes and beans with a sheet of aluminum foil, leaving the peppers uncovered. Roast for 15 minutes.
In a small bowl, stir together the cumin, coriander and thyme. Uncover the potatoes and beans and sprinkle the spice blend and lemon juice over all the vegetables. Toss the vegetables to coat. Return to the oven and roast, uncovered, for 25 to 35 minutes longer, or until the vegetables are tender and browned.
Spread about 3 tablespoons of hummus over each tortilla, leaving a 2 inch border all around. Divide the filling among the tortillas; fold in two sides and roll up as you would a burrito, placing the seam side down so the wraps stay closed. Serve immediately.