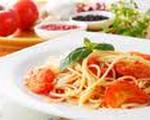 Prep: –
Cook Time: 15 min
Total: 15 min
Serving: 2-4 People
'Tis the season of farmers' market produce. For the next couple of weeks, you can expect to see a remarkable variety of fresh tomatoes at incredibly afforable prices.
This recipe for roasted tomato fettucini is an easy way to enjoy all the flavors of fresh tomatoes, without the least bit fuss. Served with a loaf of crusty French bread and a spinach salad, you'll feel like you're dining on restaurant fare at home!
Ingredients
2 pints cherry or roma tomatoes
2 tablespoons olive oil
Salt and pepper to taste
12-ounces fettucine pasta
Fresh basil, chopped
Directions
Bring a large pot of water to a boil, cook fettucine according to package directions.
Spread tomatoes on a cookie sheet (if using roma tomatoes, slice them in half before you put them on the cookie sheet). Drizzle with olive oil, sprinkle with salt and pepper.
Place in an oven preheated to 450 degrees F. Allow tomatoes to cook in oven for 10 to 15 minutes, or until softened.
Drain pasta and place in a large bowl. Remove tomatoes from the oven and pour over the pasta. Sprinkle with basil before serving.