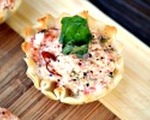 Prep: 10 min
Cook Time: 35 min
Total: 45 min
Serving: 12 phyllo shells stuffed with cheese
In addition to the aroma, roasted tomatoes add such a depth and smokiness to whatever recipe they are added to. For these delicate puffs, the roasted tomato is the perfect companion to the creamy tartness of the melted goat cheese. Serve with a dash of fresh basil and sea salt.
Ingredients
6 plum tomatoes
5 ounces of fresh goat cheese
1 egg, beaten
1 garlic clove, finely minced
1 tablespoon of fresh basil, chopped
1/4 teaspoon kosher salt
2 tablespoons extra virgin olive oil
12 pre-baked phyllo shells
Directions
Preheat the oven to 425 degrees F. Slice off the top 1/2 inch of each tomato, remove the insides and arrange the tomatoes in a ceramic baking dish.
In a bowl, combine goat cheese with egg, garlic, basil, salt, pepper and 2 tablespoons of the olive oil.
Spoon goat cheese mixture into tomatoes, placing the top of each tomato over the goat cheese filling when done. Drizzle with additional olive oil and sprinkle with sea salt and pepper.
Bake the tomatoes for 35 minutes, until tender and browned in spots and the cheese is hot.
Working while tomatoes are still warm, transfer into a bowl. Mix together until creamed. Put a tablespoon of creamed mixture into phyllo shells, serving with fresh basil.