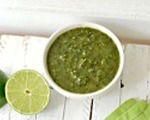 Prep: 15 min
Cook Time: 40 min
Total: 55 min
Serving: Yields about 1 cup
Tired of the same old, boring pasta with red sauce? This pasta night, add some spicy zest to your everyday rotini with this deliciously hot and unique sauce made with roasted tomatillos and garlic.
Ingredients
1 pound tomatillos, husks removed
7 cloves garlic
1-1/2 tablespoons extra virgin olive oil
1-1/4 cups cilantro
1-3/4 cups fresh spinach
1 jalapeño, seeds removed
1/2 teaspoon lime juice
Salt and pepper
Directions
Preheat your oven to 400 degrees F. Cut the tomatillos into quarters and place them in a baking dish. Drizzle with 1/2 tablespoon of olive oil and a dash of salt. Add the whole garlic cloves. Roast for about 25 to 32 minutes or until they are soft to the touch and very fragrant. Let cool slightly.
Place the cilantro, jalapeño, spinach and remaining olive oil in a food processor. Add the tomatillos and garlic (with the juices) and pulse until smooth. Season liberally with salt and pepper. Add the lime juice and pulse just to mix.