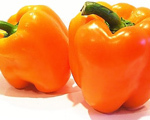 Prep: 20 min
Cook Time: 20 min
Total: 40 min
Serving: 4 Servings
Roasting the peppers brings out a smoky sweetness that blends well with the garlic and the mixed herbs. Serve this sauce with grilled meat or chicken.
Ingredients
4 yellow sweet peppers, stemmed, seeded and deveined
1 medium onion, chopped
3 cloves garlic, minced
1 tablespoon white wine vinegar
1 teaspoon sugar
1 teaspoon snipped fresh thyme
1 teaspoon snipped fresh oregano
1/2 teaspoon sea salt
1/4 teaspoon freshly ground black pepper
Directions
Preheat your oven to 425 degrees and line a baking sheet with aluminum foil.
Cut the peppers into strips and place onto the prepared baking sheet. Put the pan in the oven and cook the peppers for 20 minutes.
Remove the peppers from the oven, bring up the sides of the foil and enclose for 17 minutes.
Gently remove the skin off the peppers and then place into a food processor to blend until smooth.
Transfer the pureed peppers to a saucepan along with the onion, garlic, vinegar, sugar, thyme, oregano, salt and pepper. Stir the mixture to combine and cook over high heat until boiling, then reduce the heat and simmer for 6 minutes.