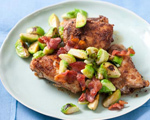 Prep: 10 min
Cook Time: 18 min
Total: 28 min
Serving: 4 Servings
These roasted chicken thighs are seasoned with a wide variety of spices to create an intense and flavorful dish. Serve topped with a cool and creamy, chunky avocado and tomato salsa for contrasting color and taste.
Ingredients
4 large boneless, skinless chicken thighs, about 1-1/2 pounds, rinsed and patted dry
1/4 tablespoon paprika
1/4 tablespoon onion powder
1/4 tablespoon garlic powder
1/4 tablespoon ground celery seed
1/4 tablespoon dried thyme
1/4 tablespoon ground bay leaves
1/4 tablespoon salt
1/4 tablespoon pepper
1/4 teaspoon cumin
1/4 tablespoon coriander
1-1/2 tablespoons olive oil plus for greasing
Directions
Preheat your oven to 450 degrees, place the oven rack in the lower third portion of the oven and lightly brush an oven pan with olive oil.
Place all of the spices into a bowl; add the 1-1/2 tablespoons of oil and mix well to combine.
Put the chicken onto the prepared pan and rub on both sides with the spice and oil mixture. Place the chicken in the pan and roast for about 18 minutes, or until browned and no longer pink; serve immediately.