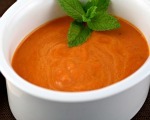 Prep: 10 min
Cook Time: 10 min
Total: 20 min
Serving: Makes 16 samplers
Serve Roasted Red Pepper Soup, a hearty dish, in sampler bowls with mini tasting spoons for guests this holiday season.
Ingredients
2, 16-ounce jars roasted red peppers
4 cups chicken broth
1 onion, chopped
1 teaspoon dried basil
2 teaspoons garlic powder
1 teaspoon oregano
1/2 teaspoon salt
1/2 teaspoon pepper
Croutons and green onions for garnish
Directions
Blend roasted red peppers in a blender or food processor. In a large saucepan, mix red pepper blend, chicken broth and chopped onion; stir in basil, garlic powder, oregano, salt and pepper; bring the mixture to a boil and stir for 5 to 10 minutes. Pour into small serving dishes and top with croutons and diced onions.