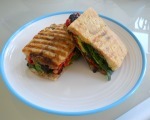 Prep: 10 min
Cook Time: 20 min
Total: 30 min
Serving: Serves 4 people
If you have a panini maker, great. If not, you can still make a Roasted Red Pepper Panini. It's a nice change of pace for lunch or dinner.
Ingredients
1 loaf of focaccia bread
1-1/2 cup fresh spinach
1, 7-ounce jar of roasted red peppers
1 small red onion, thinly sliced
8 slices of mozzarella cheese
3 tablespoons of olive oil
Directions
Cut the focaccia bread in half, horizontally. On the bottom half of the bread, layer the spinach, peppers, cheese and onion. Top with the remaining bread. Lightly brush the outsides of the sandwich with olive oil. Cute the sandwich into 4 equal portions.
Use a panini maker if you have one to grill the sandwiches. If you don't have a panini maker, heat a non-stick skillet over medium heat. Add the sandwiches (two at a time) and weigh them down with a small but heavy plate. Cook the sandwiches for about 5 minutes on each side, or until the cheese melts and the bread is toasty.