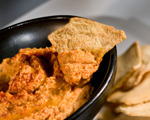 Prep: 30 min
Cook Time: 20 min
Total: 50 min
Serving: Makes about 20 servings
Hummus is such a hearty and delicious spread that can be enjoyed as a snack with pita bread, or slathered onto your favorite sandwich or wrap. Try this tasty roasted red pepper version.
Ingredients
3 cups drained chickpeas, canned (reserve 2 tablespoons of liquid)
3 red bell peppers
3/4 teaspoon minced garlic, mashed
1/2 teaspoon salt
1/4 teaspoon crushed red pepper
6 tablespoons lemon juice
6 tablespoons extra-virgin olive oil
1/2 teaspoon ground cumin
1/8 teaspoon ground black pepper
1/4 teaspoon onion powder
1/4 teaspoon sweet paprika
Directions
Preheat your oven to 420 degrees.
Put the peppers onto a baking sheet and roast in the oven for about 20 minutes, flipping occasionally, until their skins are blistered and blackened. Remove the peppers and place into a plastic bag for about 20 minutes, and then remove their skins and seeds once cool enough to handle.
Transfer the roasted peppers to a food processor along with the chickpeas, their reserved liquid, garlic, salt, crushed red pepper, lemon juice, olive oil and spices. Blend the mixture until smooth and then serve.