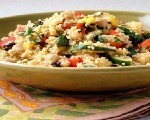 Prep: 15 min
Cook Time: 15 min
Total: 30 min
Serving: Serves 4 people
Flowing with vegetables and color, Roasted Red Pepper Couscous is a great side dish that is perfect for the vegetarians and meat-eaters in your life.
Ingredients
1-1/3 cups of instant couscous
2 tablespoons of olive oil
1 onion, thinly sliced
1 medium zucchini, halved and thinly sliced
1, 12-ounce jar of roasted red peppers, drained and minced
1, 15-ounce can of chickpeas, drained and rinsed well
1 tablespoon of lemon juice
1/4 cup of basil leaves, torn in half
1/4 cup of Kalamata olives, pitted
Directions
Place the couscous in a large bowl. Bring 2 cups of lightly salted water to a bowl. Pour the water over the couscous. Cover with plastic wrap and let sit for 10 minutes. Uncover, fluff with a fork and set aside.
In a skillet over medium-high heat, heal the oil. Add the onion and zucchini and cooking until lightly browned (about 5 minutes).
Add the zucchini, onion and remaining ingredients to the couscous and mix well. Season with salt and pepper to taste and serve warm.