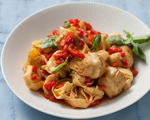 Prep: 10 min
Cook Time: 12 min
Total: 22 min
Serving: 4 Servings
A hearty Italian-inspired pasta dish made with cheese tortellini and roasted red peppers with artichoke hearts sautéed in butter.
Ingredients
1 8- to 9-ounce bag dried cheese tortellini
1 12-ounce jar roasted red peppers, drained and chopped
2 6-ounce jars marinated artichoke hearts, drained
1/2 stick unsalted butter
1/2 cup chopped basil
Sea salt and freshly ground black pepper
Directions
Prepare the tortellini according to package directions, drain (reserving 1/4 cup of the cooking liquid) and place back into the pan.
In the meantime, place the butter into a large sauté pan over medium-high heat to melt, and then add the red peppers, artichoke hearts and a few pinches of salt and pepper.
Sauté the mixture for 5 minutes and then place into the pot with the tortellini, along with the reserved cooking liquid, the basil and some salt and pepper. Toss to combine and serve immediately.