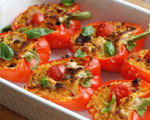 Prep: 25 min
Cook Time: 20 min
Total: 45 min
Serving: 4 Servings
This delicious Greek-inspired side dish pairs well with grilled steak and baked potatoes.
Ingredients
4 red, orange or yellow bell peppers
1/2 pint cherry tomatoes, halved
1 medium onion, finely chopped
1 cup packed fresh basil leaves, coarsely chopped
1 tablespoon dried oregano
4 garlic cloves, finely chopped
1 cup cooked couscous
3/4 cup crumbled feta
2 tablespoons olive oil and extra to brush peppers
Salt and pepper
Directions
Preheat the oven to 425 degrees and place the oven rack in the upper third of oven.
Cut each pepper in half and remove the pith and seeds. Place the peppers in a baking pan, cut side facing up, and generously brush with olive oil.
In a medium bowl, add the tomatoes, onion, basil, oregano, garlic, feta, couscous, salt and pepper and 2 tablespoons of the olive oil. Toss to coat and then fill each pepper evenly with the tomato mixture.
Roast peppers in the oven for 20 minutes.