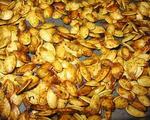 Prep: 20 min
Cook Time: 30 min
Total: 50 min
Serving: 2 cups
Pumpkin seeds are a great snack and a wholesome Halloween treat.
Ingredients
2 cups pumpkin seeds
1/4 cup oil or melted butter
4 cups water
2 tablespoons salt
Directions
Preheat the oven to 375°F. Place seeds in a colander and rinse well.
Bring the water and 1 tablespoon of salt to a boil in a medium-sized saucepan. Add the pumpkin seeds, return to a boil and let simmer for one full minute. Then cover the saucepan tightly and remove it from the heat. Let the pumpkin seeds soak for 15-20 minutes, then drain.
In a large bowl, toss the pumpkin seeds with the oil or butter and spread them out in a single layer on a baking sheet. Sprinkle with the remaining salt. Bake in the preheated oven, tossing occasionally, until browned and crisp, about 30-40 minutes.