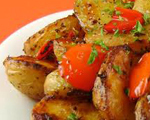 Prep: 30 min
Cook Time: 45 min
Total: 1 hr 15 min
Serving: Serves 4
A popular vegetarian dish from America's Deep South, this side dish is featured in many of the top restaurants in New Orleans.
Ingredients
1-1/4 pounds waxy potatoes
3 sweet yellow peppers
12 shallots
5 tablespoons olive oil
2 sprigs of fresh rosemary
salt and freshly ground black pepper
Directions
Preheat the oven to 400 degrees.
Bring a large pot of water to boil.
Scrub the potatoes and blanch in the boiling water for five minutes. Remove and set aside to cool.
Wash the shallots and coarsely chop. Peel the potatoes and cut them in half, lengthwise. Cut the peppers in half and discard the seeds and the pith, cut into strips.
Grease an ovenproof casserole dish thoroughly with 2 tablespoons of olive oil.
Place a row of potatoes in the dish and then alternate with the peppers until both ingredients are used up; sprinkle the shallots on top of both.
Cut the rosemary sprigs and insert between the vegetables. Drizzle remaining olive oil over the dish and season well with salt and pepper.
Place dish in the oven and bake, uncovered, for 30-40 minutes, until vegetables are tender.