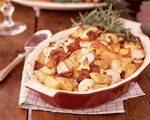 Prep: 25 min
Cook Time: 1 hr 10 min
Total: 1 hr 35 min
Serving: Serves 4
Instead of mashed potatoes, try this wonderful mix or roasted potatoes and turnips; the perfect dish to accompany your holiday meal.
Ingredients
1/2 pound bacon
8 cups turnips, cut into 1/2-inch dice
6 cups russet or baking potatoes, cut into 1-inch dice
1/2 cup heavy cream
1 tablespoons fresh rosemary, minced
1-1/2 teaspoons salt
1 teaspoon fresh-ground pepper
1 teaspoon fresh garlic, minced
2 tablespoons unsalted butter
Directions
Preheat the oven to 400 degrees.
In a large sauté pan over medium-high heat, fry the bacon until crisp. Cut into 1-inch pieces and set aside.
Empty the bacon and bacon fat from the sauté pan into a large bowl. Add the turnips, potatoes, cream, rosemary, salt, pepper, and garlic and toss all the ingredients to coat.
Empty the turnip and potato mixture into a shallow baking dish and dot with the butter. Tightly cover the dish with aluminum foil and bake for 45 minutes.
Remove foil from baking dish and bake, uncovered, for an additional 25 minutes or until the tops of the vegetables become brown. Serve immediately.