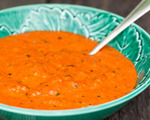 Prep: 30 min
Cook Time: 20 min
Total: 50 min
Serving: Makes 2 cups
Roasted peppers and almonds, fresh coriander and sautéed garlic and paprika are combined to create this delicious pesto sauce full of intense flavor and wonderful aroma.
Ingredients
6 red peppers
1/4 cup extra virgin olive oil
2 cloves garlic, crushed
1 teaspoon paprika (plain)
1 teaspoon smoked paprika
1/4 cup almonds, roasted
1/4 cup fresh coriander, chopped
Sea salt and ground black pepper
Directions
Preheat your oven to 420 degrees.
Put the peppers onto a baking sheet and roast in the oven for about 20 minutes until their skins are blistered and blackened. Remove the peppers and place into a plastic bag for about 20 minutes, and then remove their skins and seeds once cool enough to handle.
In the meantime, place the garlic, plain and smoked paprika into a small sauté pan with the olive oil and cook over medium heat for about 15 seconds until fragrant, stirring constantly.
Transfer the roasted peppers, garlic mixture, almonds, coriander and a few pinches of salt and pepper to a food processor. Blend the mixture until smooth and then serve.