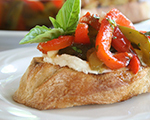 Prep: 5 min
Cook Time: 4 min
Total: 9 min
Serving: 8 Servings
Enjoy a little taste of Italy in these simple, yet delicious pieces of toasted bread topped with roasted peppers and mozzarella.
Ingredients
4 roasted bell peppers, peeled, seeded and sliced (2 cups)
2 tablespoons finely chopped fresh basil
1 tablespoon balsamic vinegar
Salt & freshly ground pepper to taste
8 1/2-inch-thick slices whole-wheat country bread
1 clove garlic, peeled and cut in half
2 ounces fresh mozzarella, cut into thin strips
2 teaspoons extra-virgin olive oil
Directions
Preheat the oven broiler.
Place the roasted peppers in a bowl and add the basil, vinegar, salt and pepper. Toss to combine.
Place the slices of bread on a baking sheet and lightly toast for about 2 minutes under the broiler.
Remove the bread from the oven, and rub each slice on both sides with the cut side of the garlic.
Top each slice with some mozzarella and then spoon on some of the pepper mixture. Drizzle the bruschetta with olive oil and place back under the broiler for 1-2 minutes, or until cheese has melted. Serve immediately.