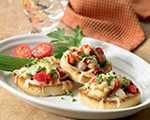 Prep: 20 min
Cook Time: 35 min
Total: 55 min
Serving: 24 appetizers
These Crostinis are a great appetizer to serve with a glass of chilled white wine, or as a simple yet delicious snack for unexpected guests.
Ingredients
1 large onion, cut into 1-inch pieces
1 red bell pepper, cut into 1-inch pieces
1/2 head garlic
1/2 cup chopped tomato
8 ounces Swiss cheese, shredded
1/2 teaspoon ground sage
Salt and freshly ground pepper to taste
24 (1/2-inch) slices French bread
Fresh parsley, finely chopped to garnish
Directions
Preheat the oven to 400 degrees and spray a baking sheet with olive oil cooking spray.
Place the onion, red pepper and garlic onto the baking sheet, being careful not to overlap, and bake for 30 minutes.
Remove the vegetables from the oven and allow to cool before removing the garlic from their skins and then chopping into pieces along with the onion and peppers.
Place the vegetables into a bowl and add the tomato, cheese, sage, salt and pepper. Mix to combine.
Spread about 2 tablespoons of the mixture onto each bread slice, then place the slices on a baking sheet and bake for 5 minutes.
Sprinkle the crostinis with the chopped parley and serve.