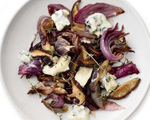 Prep: 10 min
Cook Time: 35 min
Total: 45 min
Serving: 8 servings
This impressive side dish will be a hit for vegetarian and non-vegetarians alike. Serve with a glass of white Côte d'or Burgundy to compliment the smooth and earthy taste of the shiitake mushrooms.
Ingredients
3/4 pound shiitake mushrooms, stems discarded and caps sliced 1/2 inch thick
2 red onions, cut into 1/2-inch wedges
5 tablespoons extra-virgin olive oil
Sea salt and freshly ground pepper
1/2 teaspoon thyme leaves
3 ounces Gorgonzola Dolce, cut into 1/2-inch pieces
Directions
Preheat your oven to 425 degrees.
Place the mushrooms and the onions in a large bowl, drizzle with the oil and then sprinkle with some salt and fresh pepper. Toss well to coat and then transfer to a baking sheet.
Put the mushroom and onion mixture into the oven and roast for 30 minutes, tossing once after 15 minutes of cooking.
Remove the mushrooms and sprinkle with the thyme and the cheese, toss to combine and then place back into the oven for 5 minutes. Serve immediately.