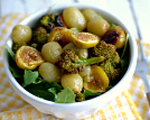 Prep: 10 min
Cook Time: 20 min
Total: 30 min
Serving: 4 People
Want a fancier salad for your dinner party or Thanksgiving feast? Try this delicious roasted grape, broccoli and sweet onion salad made with a sweet and tangy honey lemon vinaigrette. This salad is so pretty, it'll upstage the main course!
Ingredients
1 cup green grapes
1 tablespoon extra virgin olive oil
3 cups mixed salad greens
4 figs, sliced
1-1/2 cups broccoli florets
1 medium sweet onion, sliced
2 tablespoons lemon juice
2 tablespoons extra virgin olive oil
1 tablespoon rice vinegar
Dash of salt and pepper
1 tablespoon honey
Directions
Preheat the oven to 425 degrees F. Line a baking sheet with foil. Place the grapes, broccoli, onions and figs on the sheet and sprinkle with olive oil.
Roast for 10 minutes and use a spatula to flip the vegetables and grapes. Roast for another 8 - 15 minutes or until vegetables are soft and slightly browned.
Mix the salad greens in a large bowl and place the roasted vegetables on top.
Prepare the dressing by whisking the lemon juice, olive oil, vinegar, salt and pepper and honey until combined. Add the additional lemon or salt to taste. Pour the dressing over the salad and enjoy!