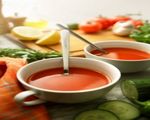 Prep: 15 min
Cook Time: 15 min
Total: 30 min
Serving: 6
Make a light lunch or a first course of this cool roasted soup. Smoky tomatoes and peppers meld with fresh cucumber and the piquancy of red wine vinegar for a heavenly marriage of flavors.
Ingredients
2 pounds roma tomatoes, cored, seeded, halved (about 3 ½ cups)
1/2 pound poblano chiles, stem removed, seeded, halved (about 1 cup)
1 pound yellow bell peppers, stem removed, seeded, halved (about 2 cups)
1, 6-ounce onion, quartered
2 large cloves garlic, unpeeled
1 medium cucumber, halved, seeded, chopped fine (about 2 cups)
1/2 cup red wine vinegar
1/2 cup olive oil
2 tablespoons chopped fresh cilantro
Pinch or two salt
Black pepper to taste
1 cup reduced-sodium tomato juice
Directions
Set oven on broil and adjust rack to top position. Line a large rimmed baking sheet with foil.
Place tomatoes, peppers, onion, and garlic in a single on sheet and broil until vegetables are nicely browned.
Remove from oven and set aside to cool.
Remove skins of tomatoes and peppers, if preferred.
In a large bowl, whisk together vinegar and oil.
Add cilantro, salt and pepper.
Peel the garlic.
Finely chop garlic, tomatoes, peppers, and onion. Combine chopped roasted vegetables with the cucumber in a large bowl.
Stir in tomato juice until you get the desired consistency.
This gazpacho has texture.
If you want a smooth soup, puree ingredients in a food processor or blender.
To serve cold, refrigerate for a couple of hours.