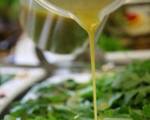 Prep: 10 min
Cook Time: 1 hr
Total: 1 hr 10 min
Serving: 4 Servings
This sweet and garlicky vinaigrette, made with roasted onion, capers, anchovies and shallots, is ideal drizzled over a lamb and mixed greens salad.
Ingredients
1 head garlic
9 tablespoons olive oil
2 tablespoons sherry vinegar
2 tablespoons salt-packed capers, rinsed, drained, and finely chopped
1 tablespoon minced shallots
10 oil-packed anchovy filets, drained and finely chopped
12 tablespoons extra-virgin olive oil
Sea salt and freshly ground black pepper to taste
Directions
Preheat your oven to 400 degrees.
Cut 1/4-inch off the top of a garlic head and coat with 1 tablespoon of olive oil. Wrap the garlic in a foil packet and place in the oven for 1 hour until soft.
Once the garlic has cooled, squeeze the garlic cloves to release them from their skins and then mash to form a paste.
Place the garlic into a bowl with the vinegar, capers, shallots, and anchovies, mix to combine, and then slowly add the remaining olive oil whisking vigorously until blended. Season the vinaigrette with a few pinches of salt and pepper and serve immediately.