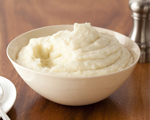 Prep: 20 min
Cook Time: 1 hr 15 min
Total: 1 hr 35 min
Serving: 4 Servings
This twist on classic mashed potatoes is a great dish for your Holiday table. If you don't have time to clean all the garlic, you can purchase the peeled garlic at the supermarket.
Ingredients
20 cloves of garlic, peeled
6 Russet potatoes, peeled, chopped into chunks
3/4 cup Parmesan Cheese
1/2 a stick of butter
3/4 cup of half-and-half
Sea salt and freshly ground pepper to taste
Directions
Preheat the oven to 300 degrees.
Place the peeled garlic cloves on a sheet of aluminum foil and add enough olive oil so that the garlic cloves are covered. Add a few sprinkles of salt and pepper and then close the foil into a ball and cook in the oven for 55 minutes.
Place a large pot of hot water to boil over high heat. Once boiling, drop in the potatoes and boil for 25 minutes.
Remove the potatoes from the pot, drain and add back to the pot along with the butter, half-and-half, Parmesan and the roasted garlic. Mash with a fork or a potato masher until ingredients are well combined and desired texture is obtained. Sprinkle with salt and pepper.