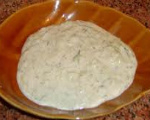 Prep: 20 min
Cook Time: 10 min
Total: 30 min
Serving: 8-10 servings
A tasty fresh roasted garlic and pepper chip dip- sure to be a party hit!
Ingredients
4-5 whole garlic cloves with peel
Olive oil
2 (8 ounce) packages cream cheese, softened
3/4 cup mayonnaise
1 (7 or 9 ounce) jar roasted sweet red peppers, drained, coarsely chopped
1 bunch green onions with tops, chopped
Directions
Preheat the oven to 400 degrees Fahrenheit.
Brush the oil lightly onto the outsides of the cloves and arrange in a shallow pan. Bake for 10 minutes and allow to cool. Press the garlic out of the cloves.
Combine the cream cheese and mayonnaise in a bowl and beat until smooth. Stir in the remaining ingredients.
When ready to serve sprinkle with additional red pepper or paprika.